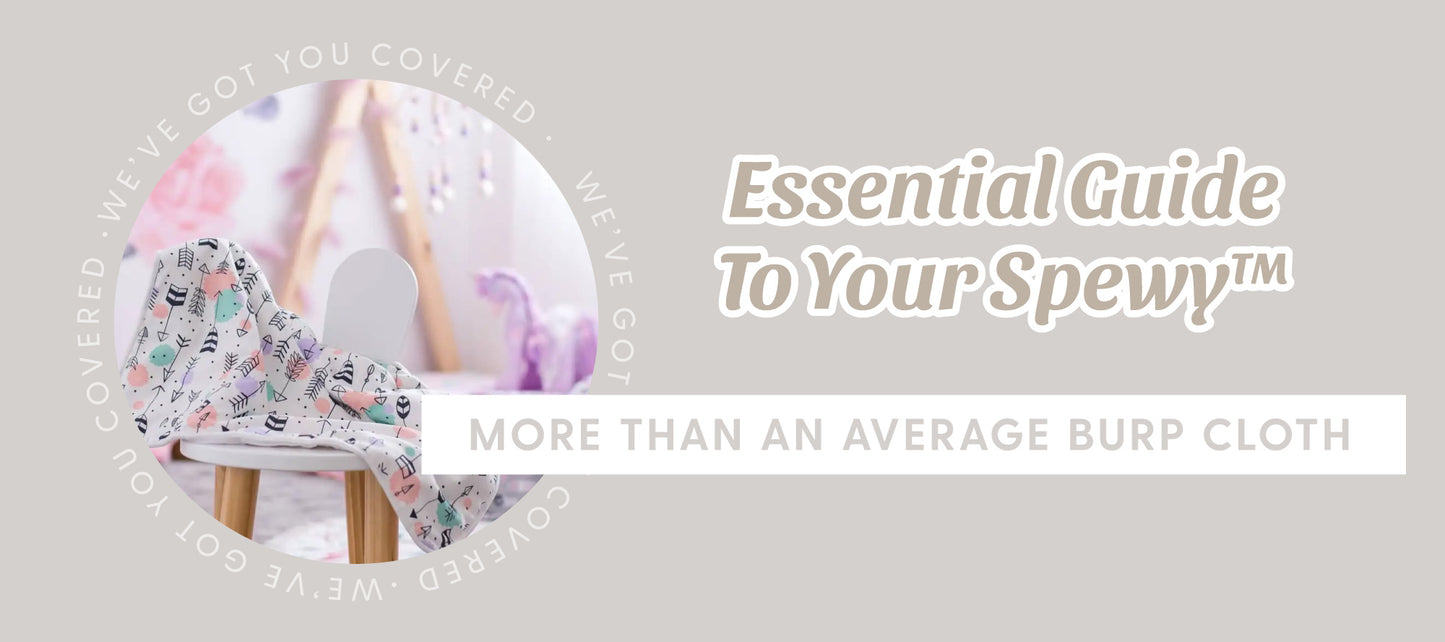 Essential Guide To Your Spewy™
Being a parent comes with its fair share of challenges, from sleepless nights to cleaning up endless accidents and spills. The best way to prepare for anything the day brings is with a Spewy™.
The Spewy™ burp cloth was designed by parents, for parents. We know how hard you work and how little time you have to deal with unexpected challenges — including spewing. Quickly and efficiently mop up these messes with the Spewy™.
If you're not exactly sure what the Spewy™ is or have been on the fence about making a purchase, read on to learn more with our essential guide to your Spewy™.
What Is A Spewy?
A Spewy™ is far more than an average burp cloth. It's a practical and versatile product that can effectively deal with all types of liquid to ensure your little one (and you!) stay clean and dry.
The Spewy™ was developed by parents who knew that standard towels and cloths simply don't cut it when it comes to tummy bugs and bedwetting. Made from a blend of microfibre and terry towelling, the unique combination of materials can absorb up to 2 litres of liquid, which is 7 times its own weight. 
Everything we've covered so far is sure to appeal to parents. However, in developing the Spewy™, we knew the product had to interest children, too. As a result, the Spewy™ is available in a broad range of colourful patterns and designs. Whether your little one loves rainbows or bushland animals, there's a Spewy™ they'll love. 
So you've managed to catch the spew; what do you do with the Spewy™ now? It's simple — pop it straight into the accompanying Spewy™ Wet Bag, along with any soiled clothes! Once you've arrived home, you can throw everything straight into the washing machine. We've thought of everything when it comes to cleaning up spills in a stress-free manner.
What Are The Benefits Of Using A Spewy?
The versatility of the Spewy™ burp cloth means there are countless benefits to one (or two) stored away in your handbag, car, or closet.
When a tummy bug hits
The Spewy™ should be your go-to product whenever your child is struck down by nausea and stomach pain. While they're perfect for the car, you can also place the Spewy™ between your child and the surface they are resting on, be that a couch, their bed, or your lap. Doing so will prevent you from constantly having to shower and wash blankets, pillows, and cushions. 
As a portable change mat
If there's one thing that parenting teaches you, it is to expect the unexpected. It's challenging to plan ahead when out and about, and you may be forced to change your little one in unforeseen locations. Having a Spewy™ tucked away in your bag can provide you with complete peace of mind that you have a safe and hygienic surface to change and clean your child. 
For toilet training protection
Growing up involves plenty of accidents, many of which can't be avoided. What can be dodged are soiled and stained surfaces. If your child hasn't quite graduated from toilet training, place the Spewy™ underneath them when they're strapped into the pram to ensure it stays clean and dry. 
How To Look After Your Spewy
The Spewy™ is designed to be durable and long-lasting. You can extend its life and ability to absorb liquids effectively by caring for it correctly.
We know how busy parents are and so it was important to us that the care process for the Spewy™ be as simple as possible. Your Spewy™ can be cleaned in a washing machine (just be sure to remove any chunks of vomit beforehand) and may also be placed in the dryer on low heat. Wash your Spewy™ baby burp cloth after each use and avoid ironing it.
More information can be found in the FAQ section of our website. 

Once you've used the Spewy™, you'll wonder how you ever survived without it. If you have any further questions about using and caring for your Spewy​​™, contact our friendly team today.